The Mutt Hutt
At the Mutt Hutt, we know you want to be the best pet owner possible. In order to be a great pet owner, you need to take care of your pet's grooming needs. The problem is that doing it yourself is messy, time-consuming, and never ends with a good result, which makes you feel like you're dropping the ball.
We believe that every pet deserves to be pampered. That's why we have dedicated our practice to providing high-quality grooming in a stress-free and comfortable environment. Here's how it works:
Book an appointment
Drop off your pet for a few hours
Enjoy a clean and happy pet
Avoid injuries, get it done quickly, and enjoy a happy and healthy pet.
We care about your pet's health
The Mutt Hutt History
Mutt Hutt Grooming opened in April 2010 and we are proud to offer a clean, safe, and positive environment for your pet. At The Mutt Hutt, our team of highly experienced, certified, and friendly groomers, strive to provide consistent work, great customer service, and a personal relationship with both our human and pet clients. We want you to feel completely comfortable leaving your pet with us knowing that they are part of our family.
Nikki Pavelich
Nikki is the proud owner of Mutt Hutt Grooming in Saskatoon. She has always had a passion for animals, dogs in particular, and knew that one day she would work with them.
Shortly after getting her first dog, Ramsey, she knew she wanted to surround herself with dogs. It was then that she decided to complete her grooming course, and after working in the field for a few years, realized that she wanted to start her own grooming shop.
She enjoys dogs of all sizes but her passion lies in transforming the large, double-coated breeds into looking and feeling their best.
She currently has two dogs, Ramsey and Dommer, who are often at The Mutt Hutt having their toenails trimmed, coats brushed, and greeting new and old clients!
Joyce Gawdun
Joyce is a certified dog and cat groomer with a special love for cats. She is currently taking her masters in cat grooming with plans to complete her masters in dog grooming as well.
In her spare time she likes to hang out with her dog Teddy, two cats Bella and Bandit and her three rabbits.
She also has a love for cars and mechanics and spends a lot of time with her dad working in his '68 Camaro.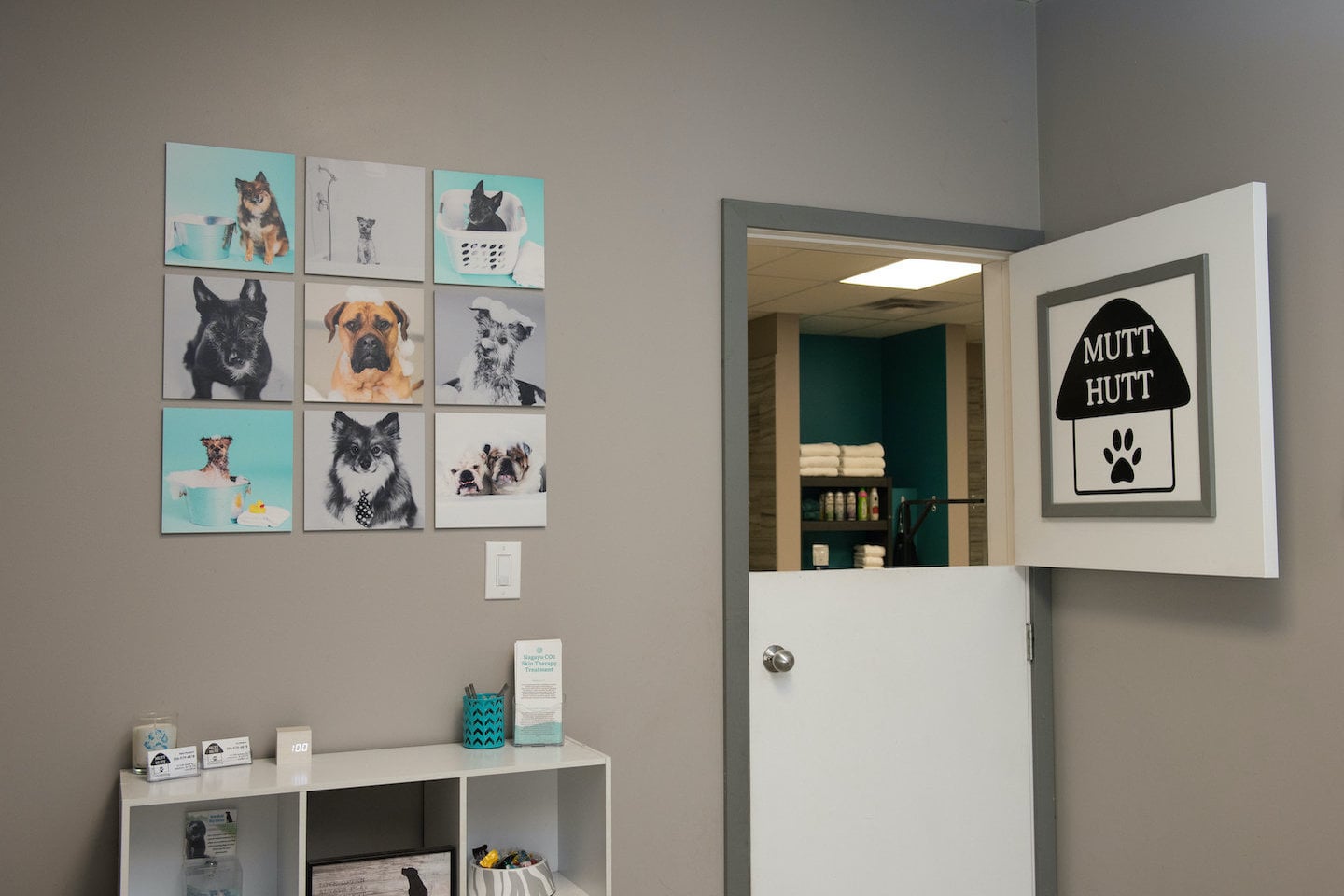 Cancellation Policy

Cancellations must be made at least 24 business hours in advance of any scheduled appointment. Late cancellations or missed appointments will result in a fee of $20.

Appointment Times

Please arrive on time for your appointment. Mutt Hutt Grooming reserves the right to reschedule or modify appointments for pets arriving late. A fee of $10/15 minutes may apply.

Pickup Times

Each client will be given a time as to when their pet's grooming will be finished, please be respectful of picking up your pet after their grooming is completed. Pets are expected to be picked up promptly after their grooming is complete.

Pet Washrooms

Please make sure your pet has been to the bathroom before arriving at The Mutt Hutt.

Dogs and Leashes

We ask that all dogs are leashed when entering and exiting the building as per Saskatoon Bylaw No. 7860.
Cats and Kennels

For the safety and comfort of your cat, we ask that you bring them in a kennel or carrier.

Calm Enviroment

For the safety of the animals being groomed it is asked that you do not interrupt the groomer. If you arrive to pick up your pet and it is still being groomed, please DO NOT talk to your pet or allow him/her to see you. An excited pet can be dangerous to continue to work on.

Satisfaction

Your satisfaction is important to us. If you would like something adjusted our groomer will be happy to do so when you pick-up your pet from their appointment. Once you take your pet home from the appointment, any return visits will be treated as a new appointment and will be charged a grooming fee.

Special Requests

An additional charge may apply to special conditions requiring unusual time and effort.

Prices

Prices are subject to GST and may change without notice.